100+ Positive Words Starting With Q (Adjectives, To Describe A Person)
Are you tired of using the same old words to describe someone positively? And are you ready to spice up your vocabulary game? Look no further than this list of positive words that start with the letter Q! It's packed with unique and exciting options to help you portray someone or something positively. Say goodbye to boring adjectives and verbs, and hello to a world of creative expression!
Although Q may not be the most popular letter to start a word with, along with X and Z, there are numerous captivating and inspiring words that begin with it. Words like "qualified" and "quick" as adjectives and "queen" and "question" as nouns can bring life to your writing and discussions. So, don't hesitate to incorporate these dynamic Q-words for a more exhilarating and engaging conversation.
This list of 100+ positive words that start with Q includes queen, qualified, quality, quantity, quartz, quarter, quick, quo, and many more. Here are all the good, nice, beautiful, and positive words starting with Q.
Positive Words That Start With Q To Describe A Person
Quaint – Something or someone that is old-fashioned, charming, or unusual in a pleasing way. It's a versatile word that can be used to refer to everything from a quaint little village to a quaint piece of furniture.
Quirky – Unconventional or eccentric in a pleasing way. A quirky person might have a distinct sense of humor, or an unconventional way of thinking about things. They might have unusual hobbies, interests, or talents that make them stand out from the crowd. They might also have unexpected quirks or habits that are funny or interesting to others.
Quick-witted – A person's ability to think on their feet and come up with clever or intelligent responses in a short amount of time. Essentially, a quick-witted person is someone who is mentally agile and able to process information quickly.
Qualified – Someone who possesses the necessary skills, knowledge, and experience to perform a specific job or task. In essence, being "qualified" means that you have met the requirements or standards set forth by an organization or industry.
Quiet – Someone reserved, introverted, and who tends to speak less frequently or in a softer tone than others. However, it's important to note that being quiet does not necessarily mean that someone is shy or lacking in confidence; rather, they may simply prefer to observe and listen rather than dominate conversations.
Quality-oriented – Quality-oriented individuals are typically very detail-oriented and meticulous in their work. They pay close attention to every aspect of what they are doing, from the smallest details to the big picture. This attention to detail is what allows them to produce work that is consistently of high quality.
Questioning – Someone that is in a state of uncertainty or doubt about something. This could refer to a number of different situations, such as questioning their own beliefs, questioning the actions of others, or questioning the validity of certain information or ideas.
Quixotic – Idealistic in an impractical and unrealistic way. It's a term that comes from the character Don Quixote, from the classic Spanish novel of the same name by Miguel de Cervantes.
Quizzical – A person who has a curious or puzzled expression on their face. It's an adjective that's often used to describe someone who's trying to figure something out or who is skeptical of what they're hearing.
Quotable – Being quotable is often seen as a mark of intelligence, creativity, and charisma. People who are quotable have a way with words, and they know how to make an impression on others. They may be admired for their ability to express themselves in a way that is both engaging and thought-provoking.
Beautiful Q Words
Querencia – a Spanish word that refers to a place where one feels safe, secure, and comfortable. It is a term commonly used in bullfighting, where the bull seeks refuge in a specific part of the ring, known as the querencia, to avoid further confrontation with the matador.
Quaintrelle – a woman who was known for her impeccable taste in fashion, art, and literature. She was often seen as a trendsetter, someone who was ahead of her time and unafraid to express herself through her style and demeanor.
Quiescent – an adjective that describes something or someone as being in a state of rest, quietness, or inactivity. Essentially, it means that something is calm and still rather than active or moving.
Cool Q Words
Quell – to calm, pacify, or suppress
Quench – a common English verb that means to satisfy or extinguish a thirst or desire. It can also be used to describe the act of putting out a fire or suppressing something, such as a rebellion or an emotion.
Quirky – unusual, peculiar, or eccentric in an appealing way
Quintessential – representing the most perfect or typical example of something
Quixotic – romantic, idealistic, or impractical in a charming way
Quandary – state of confusion or uncertainty, typically when faced with a difficult decision or situation.
Quip – a clever, witty remark or comment
Quiver – to tremble or shake with a slight, subtle and swift movement.
Quotidian – commonplace or ordinary, occurring daily
Quicksilver – a shiny, liquid metal; metaphorically, something that is mercurial or constantly changing
Queer – an expression of individuality and a rejection of the idea that there are only two genders and two sexual orientations
Queenhood – the state or condition of being a queen, but it also encompasses the qualities and characteristics that are associated with being a queen.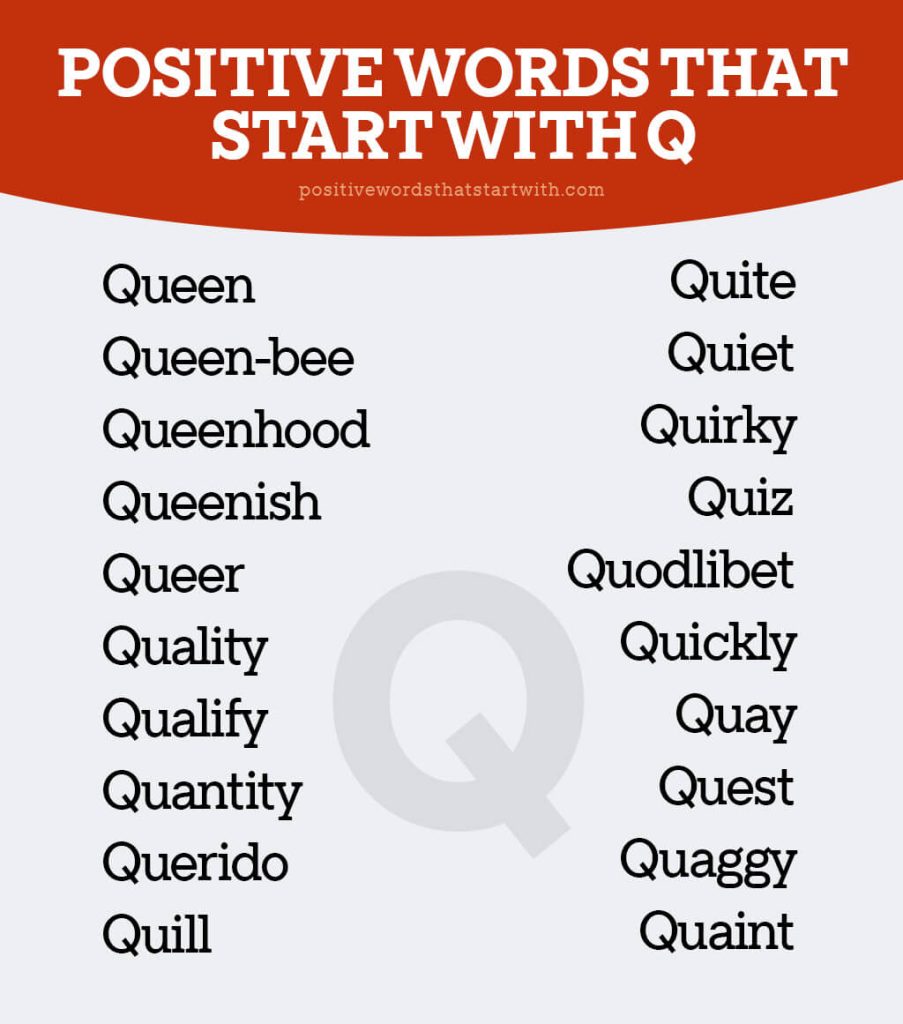 List of All Positive Words That Start With Q
Q-tip
Qadi
Qigong
Qiviut
Qspiritual
Quack
Quackhood
Quadrate
Quadruple
Quadruplex
Quadruplicate
Quaff
Quaggy
Quahog
Quai
Quail
Quaint
Quaintise
Quaintrelle
Qualification
Qualified
Qualifier
Qualify
Qualitative
Quality
Quantifiable
Quantitative
Quantum
Quarender
Quarry
Quarter
Quartz
Quartz-stone
Quash
Quasi
Quasimodo
Quaternary
Quattro
Quay
Queen
Queen-bee
Queenhood
Queenish
Queenly
Queep
Queer
Queerly
Quemeful
Quench
Querendón
Querido
Querulous
Query
Quesadilla
Quest
Questioning
Qui bono
Qui vive
Quiche
Quick-release
Quick-sighted
Quick-thinking
Quick-witted
Quick-wittedly
Quicken
Quickenest
Quickening
Quickie
Quickly
Quicksilver
Quickstep
Quiddity
Quiescent
Quietness
Quietsome
Quietude
Quill
Quilling
Quintessence
Quintessential
Quintuple
Quip
Quipment
Quiqui
Quirk
Quirky
Quite
Quixotic
Quiz
Quizzed
Quizzing
Quo
Quoda
Quodlibet
Quondam
Quora
Quorum
Quota
Quotable
Quotas
Quotating
Quotatingly
Quotation
Quote
Quotes
Quotha
Quotidian
Qwerty